The plates were purchased on eBay from two different sources: an active American soldier serving in the 1st Brigade, 4th Infantry Division—the same unit that captured Saddam Hussein—and an Iraqi refugee now living in Michigan.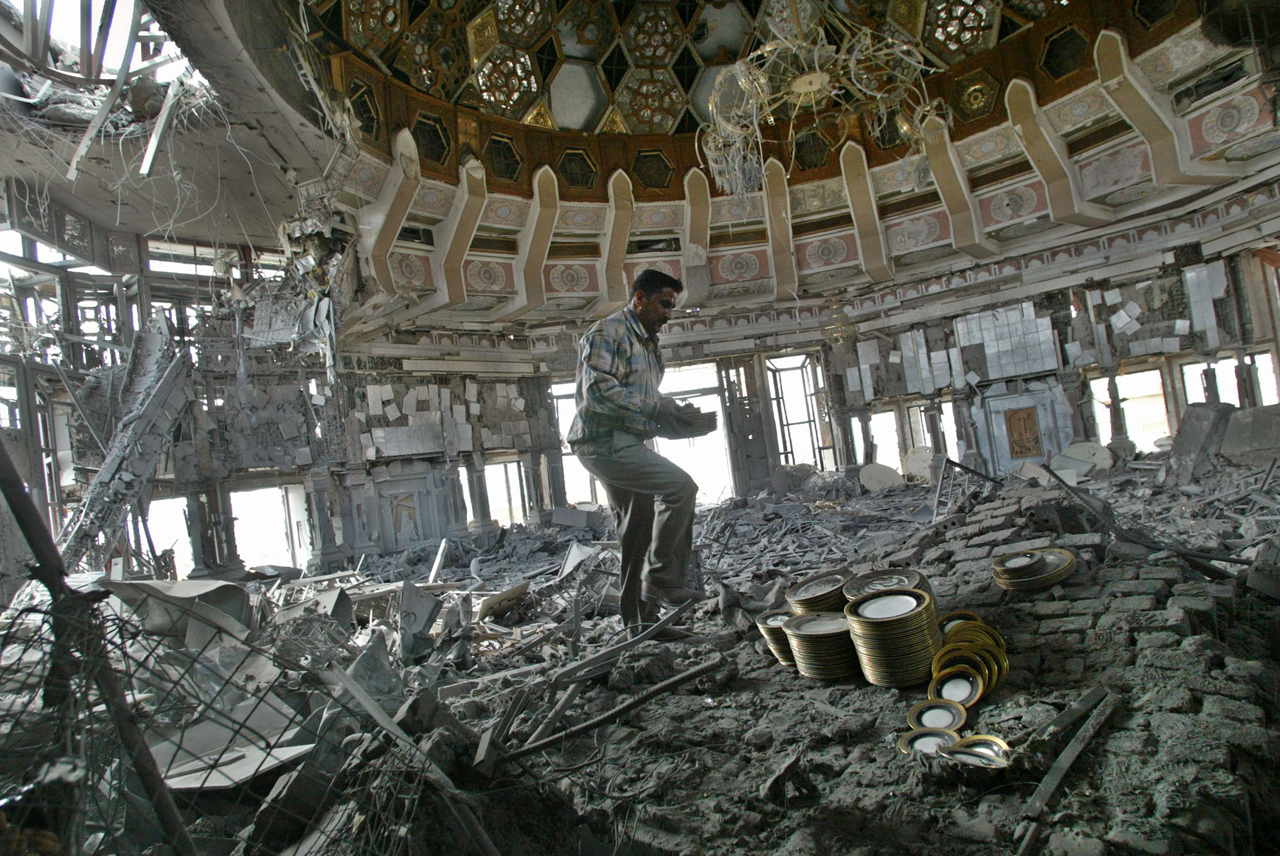 The dishware was looted from Saddam's palaces after they were destroyed by Coalition Forces. Personal household items such as plates and silverware were taken by Iraqi citizens, many of whom used them in their own homes—a dispersal of power.
Rare pieces of Wedgewood china once owned by King Faisal II were also acquired for the project. The plates were looted from the Iraqi monarch's palaces following his execution in 1958, but were found among Saddam's own dishware in 2003. It has been reported that Hussein was so obsessed by the young King's short life and violent demise that he would make secret visits to his tomb, often asking guards to open the grave so he could gaze upon the monarch's remains.
A US Marshal from the Asset Forfeiture Unit inspects Saddam's dishes at Creative Time's offices in New York City following the issuance of a Cease and Desist letter demanding the "surrender of the Iraqi plates to the U.S. Attorney's office, Southern District of New York" and thus the discontinuation of Spoils.
Video still of Saddam Hussein's dishes being repatriated to the Republic of Iraq at the request of Iraqi Prime Minister Nouri al-Maliki and at the behest of US President Barack Obama during their meeting in Washington, D.C. on December 11, 2011 to finalize plans for American withdrawal from Iraq and transfer of sovereignty to take effect four days later. The plates traveled back to Baghdad on the same flight as the Iraqi Prime Minister. They will go on display in Saddam's palaces, which will be transformed into museums. Reports on the project's conclusion accompanied reports on the end of the Iraq War by various news outlets, including The New York Times, The Rachel Maddow Show.
Spoils appeared on the front page of The New York Times' coverage of the end of the Iraq War on December 15, 2011.