Working from a complete set of the 150-hour audio tapes generated during the shooting of Michael Lindsay-Hogg's documentary Let It Be, I created a series of cascading narratives of the rise and fall of The Beatles, pinpointing the precise moment when alienation and isolation gave way to collapse, amid marathon meetings, wheedlings, rehearsals, and conflicts. There were, clearly, allegorical echoes between that collapse and the breakdown of political negotiations in Israel, Palestine, and across a Middle East that once dreamed of uniting under the banner of Pan-Arabism.
But there was, oddly, a more direct connection: those 1969 rehearsals were supposed to lead to their first live performance in three years, and Paul McCartney's dream was for The Beatles to make their triumphant return with a concert in North Africa—amphitheaters in El Jem, Tunisia and Sabratha, Libya were booked.
The band ultimately reached an impasse; Ringo and George vetoed the final proposal. The epic concert in the "exotic location" would not materialize, and the compromise was a short and sweet and pathetic rooftop concert one chilly afternoon in London. Disembodied but familiar voices wafted over pedestrians in the street, broadcasted from the same height as church bells or minarets: one final call to prayer for the fanatics down below.
The Breakup culminated in a recreation of that final concert, three decades later, against the backdrop of the Old City and the Dome of the Rock. Members of the celebrated Palestinian band Sabreen—who met at university in the early 1980s and began their career playing Beatles songs at wedding parties, and who had broken up in 2002—came together to perform five Arabic-inflected Beatles songs on the roof of the Swedish Christian Study Centre in Jerusalem.
The songs were selected and ordered to form a kind of poem about collaboration and collapse, and about dreams that cannot be deferred indefinitely.
TWO OF US
THE LONG AND WINDING ROAD
DON'T LET ME DOWN
GET BACK
LET IT BE
Live in Jerusalem 2010 is a deluxe gatefold vinyl LP recording of Sabreen's concert published by Bidoun. The cover concept for refers to Live Peace in Toronto 1969, an album documenting a September 13, 1969 performance by the Plastic Ono Band at Varsity Stadium, Toronto. For the cover of Live Peace, John Lennon and Yoko Ono began with Blue, a painting by Yves Klein. The work depicts a sky of pure, sparkling azure; John and Yoko introduced via photo collage the image of a single cloud. "By us putting a cloud there," Ono said, "it suddenly became the real sky—and the real world—as opposed to perfection." Live in Jerusalem takes the same Klein painting, collaged now with a photographic image of the aerial bombardment of Gaza in January 2009, correcting the utopic perfection proposed in John and Yoko's gesture by imposing a darker cloud upon Klein's idealized sky.
The Breakup was also a multi-facted multimedia event at Lombard Freid Gallery, New York, September 6–October 17, 2012, featuring
drawings, memorabilia real and imagined, and radio broadcasts, as well as the limited edition release of Live in Jerusalem 2010.
Referring to the uniforms and medals worn by The Beatles on the cover of Sgt. Pepper's Lonely Hearts Club Band—their seminal 1967 album, released just days before the start of the Six Day War—four shadow boxes upholstered in the same colored satin display the military awards issued by Middle Eastern countries from 1948-1973. Handwritten notations on the glass frame attempts to draw comparisons between John, Paul, George and Ringo to Egypt, Syria, Israel and Jordan.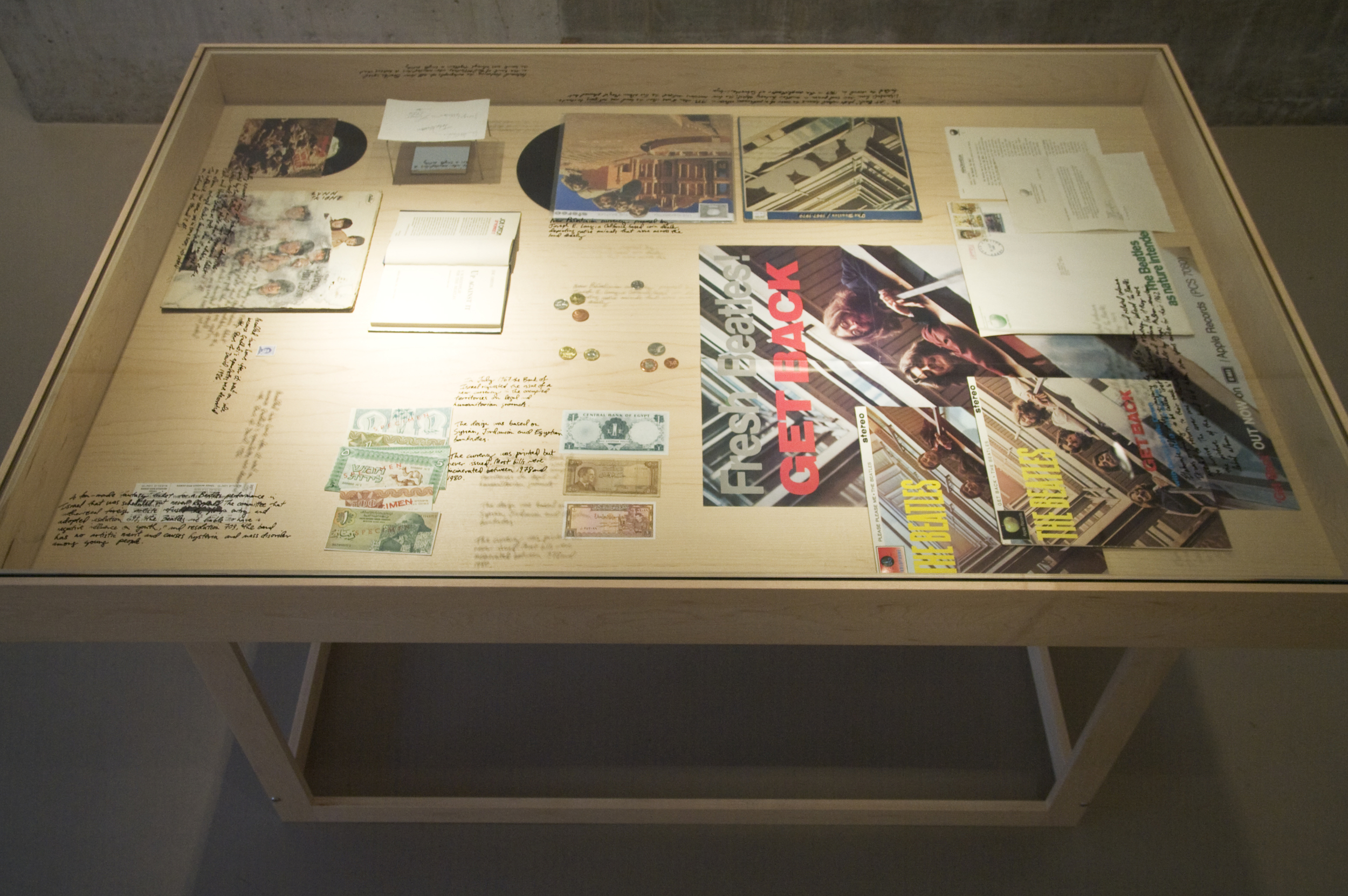 Fastasy items, from unreleased Beatles albums to proposed Palestinian currency are presented in a vitrine with handwritten captions on glass.